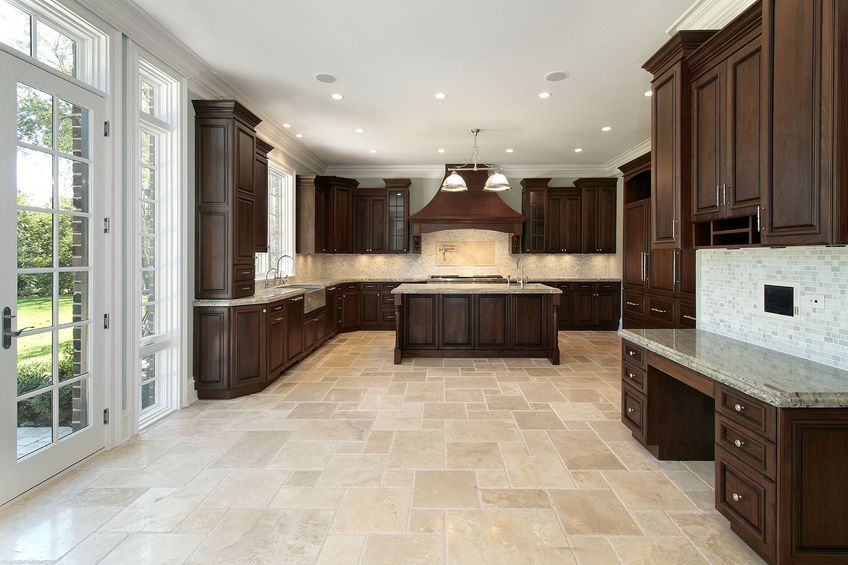 Cleaning your floors can be easy with the right products and direction.
Cleaning floors regularly and properly can preserve your flooring and keep your home looking and smelling fresh. Learn the basic steps needed to clean different types of tile floors.
Ceramic
Ceramic is the most durable and popular type of tile found in homes. Sweep or gently vacuum first before you clean tile. By sweeping or vacuuming regularly, you can keep it looking tidy in between more thorough cleanings.
You can use a mixture of water and mild detergent to mop the floor. Mop using even, consistent strokes to remove all of the stains. You can also use an all-purpose cleaner or make your own cleaning solution with vinegar. Steam mops are great options as they warm up and lift stains rather than rubbing dirty water into grout lines.
Grout
Along with the tile, clean grout to remove constant buildups of dirt and debris. Use a grout cleaner to remove stubborn stains. Let the cleaner soak into the grout for several minutes before scrubbing it off.
Avoid harsh chemicals and brushes that could damage the tile and grout. After the cleaning, applying a sealant can provide added protection – but always check with the manufacturer first to prevent any warranties being voided.
Travertine
Travertine stone is another ideal selection for tile flooring. It is not the hardest stone on the market, but it is durable and attractive to home designers.
Start by sealing the travertine surface to prevent scratches and stains. When cleaning, avoid the use of harsh or acidic chemicals that are not suitable for natural stone. Use a mild, neutral cleaner that does not leave soapy streaks and dry floors to avoid water sitting on the stone.
Wood Look Porcelain Tile
Wood grain porcelain is more durable than genuine wood and has fewer maintenance needs. Clean this material using a pH-balanced solution, and apply less pressure when cleaning an unpolished floor. Drying the floor is recommended to prevent water spots. As mentioned in ceramic tile cleaning, steam mops provide a great way to get the floor clean without leaving excess water on the floor.
Wood Floors
Wood floors require specialty cleaning products to maintain the wood's finish. Never use harsh chemicals on your wood floors. You can ask your local hardware store for product suggestions, or review your manufacturer's information to find products they recommend to keep your wood floors looking like new.
If you need assistance getting your floors looking their best, just request an estimate!