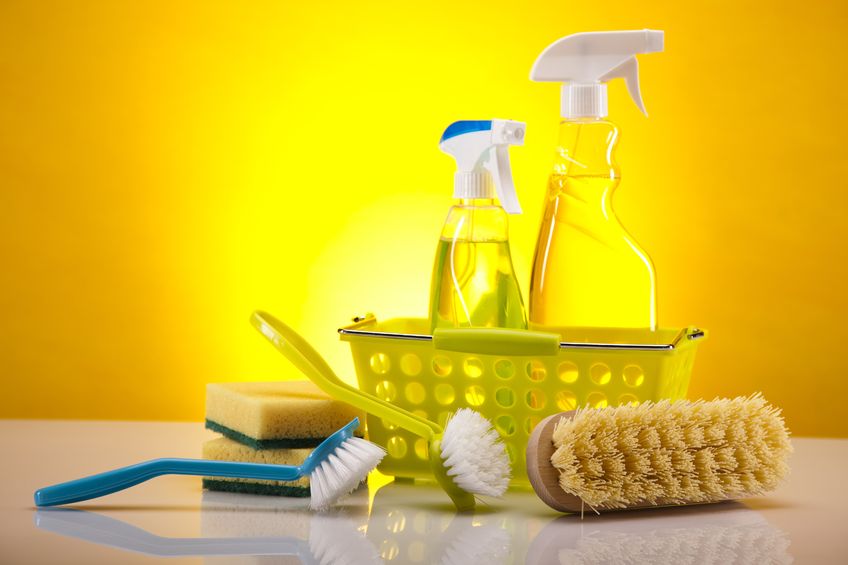 Traditionally, the words "spring cleaning" are as motivational as they are dreaded in households throughout the country.
It's the one time of year when anything and everything that gets missed or neglected throughout the year finally gets its day to be cleaned. It sounds like a good thing in theory, but the thought of cleaning every surface in a house can be an understandably daunting task for many homeowners.
Fortunately, it doesn't have to be so bad. Here are a few spring cleaning tips to make this year's cleaning a completely manageable event. It might even be fun.
Sometimes, it helps to break everything down into sections or similar groups. For instance, cleaning the kitchen, dining area and living room at the same time is more manageable to plan than the entire home's interior. Then, grouping bedrooms and bathrooms together can be helpful. Finally, all that you'll have left is the exterior of the house.
Kitchen, Dining, Living Room
It's usually easiest to work from top to bottom in these areas. In the kitchen, that means dusting high ledges and cleaning the tops of appliances first, then the interior of the fridge, oven and microwave before pulling everything away from the walls to clean behind.
In the living and dining rooms, you'll again want to dust up high, then remove and wash drapes and curtains while you finish dusting. Finally clean the floors throughout the entire area.
Bedrooms and Bathrooms
These areas of the house are pretty straightforward when it comes to cleaning. Dusting and vacuuming in the bedrooms (don't forget to dust the ceiling fans), and cleaning the bathtub, toilets and around the sink in the bathrooms will be the bulk of the work.
Use a good all-purpose cleaner and be sure to keep the area ventilated, particularly when you're working in a small, enclosed space like a bathroom.
Outside the Home
Be sure to check windows and doors for signs of leaks, drafts and water damage. Chipped paint or discolored wood can be a quick giveaway that you've stumbled upon a problem area. Wash and disinfect the garbage and recycling bins, pressure wash siding, and check the roof for cracked or missing shingles. Always be cautious and get assistance whenever possible while using ladders or venturing up onto the roof.
While your yearly deep cleaning practices will vary depending on your unique home and how thorough you want the process to be, but these simple tips will leave you with a spring clean home after just a few hours of work.
If you need assistance getting your house shiny and clean this spring, just request an estimate.