Our Phoenix House Cleaning Checklist Keeps it REAL
While some cleaning companies may provide an impressive cleaning the first or second time they come to your home, by cleaning visit number four, the love is gone! That is why we pride ourselves on a REAL housecleaning every time we visit your home. That is a promise we stand behind.
An important reason for the consistency of our work is the detailed checklist which we fill out when we do your estimate. Each room is covered in detail and any special instructions are clearly noted.
Two Simple Cleaning Plans
The tasks are divided into two Cleaning Plans. General Cleaning, which is done on each and every visit, and Spring Cleaning, which are tasks that are done on rotation from room to room each time that we come to clean.
Typical Spring cleaning tasks include spot cleaning woodwork, lemon oiling cabinets, vacuuming furniture and so forth. Many cleaning services do not even include these tasks, but we get them done several times per year. The checklist is used by the team to keep track of which room or rooms are due for the extra tasks. Interested in a customized cleaning plan? Any of the Spring tasks can be moved into the General category at your request.
Special Instructions
The second page of the checklist is used for all the special instructions, room by room, for your home. It also includes
locations of the garbage bags and dumpster. If you have antiques or collectables that you're worried about, or a cluttered home office that you don't want us to straighten up, this is where we write it down.
If you would like to download a copy of our checklist to print out or review, please visit this link View Our Checklist.
Download Our Checklist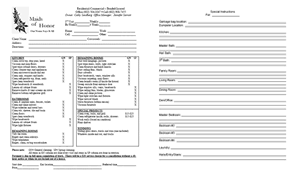 "I just wanted to tell you what a great job you did cleaning my home! You truly spoiled me. The girls are always careful to get the details correct and took note what is important to me. I couldn't have asked for anyone better to clean my home. I will be recommending you to all of my friends! Thank you again for everything!" - Stacy B., Peoria