Our REAL Cleaning System… Honest and True.
When Maids of Honor owner Cathy Sandberg started the company, she realized she had to have a system to provide the kind of quality service and affordable pricing that she desired. The system had to be teachable, repeatable, speedy and thorough. In other words, she needed a real system.
She was inspired by the book, "Speed Cleaning", by Jeff Campbell. She adopted a system for beginning at the entrance of a room and working around the room systematically to minimize wasted effort and assure that nothing is missed.
Innovation of the SMART System
Cathy created the "SMART" cleaning system method. As Cathy worked to refine and perfect the cleaning system, she realized that the housecleaners needed a way to carry the tools that they needed. Pockets didn't work! The apron and tool set was developed as a result.
Screwdriver, putty knife and grout brush: useful to clean in tight spots
Feather duster and whisk broom: get the dust and dirt
A treated Murphy's Oil cloth on the wood furniture: excellent for dusting and it leaves the surfaces gleaming
The Sh-mop: specialty mop for wood floors
Razor blade: cleans glass and countertops
Polycare solution: recommended by hardwood floor installers to extend the life of your floors
Long handled duster: just right for cleaning registers and those hard-to-reach cobwebs and ceiling fans
SMART Tools: Real Tools for a Real Clean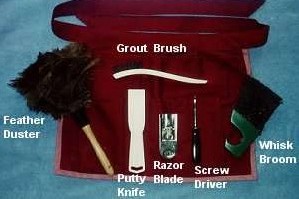 In addition to our hand tools, we bring all our own other equipment, too. Cathy has standardized the entire equipment set, large and small vacuums, stepstool, buckets, mops and brushes. We even carefully dust your lighting fixtures such as lamps and chandeliers to give your home that bright clean feel!
We go the extra mile to make sure you are more than satisfied.