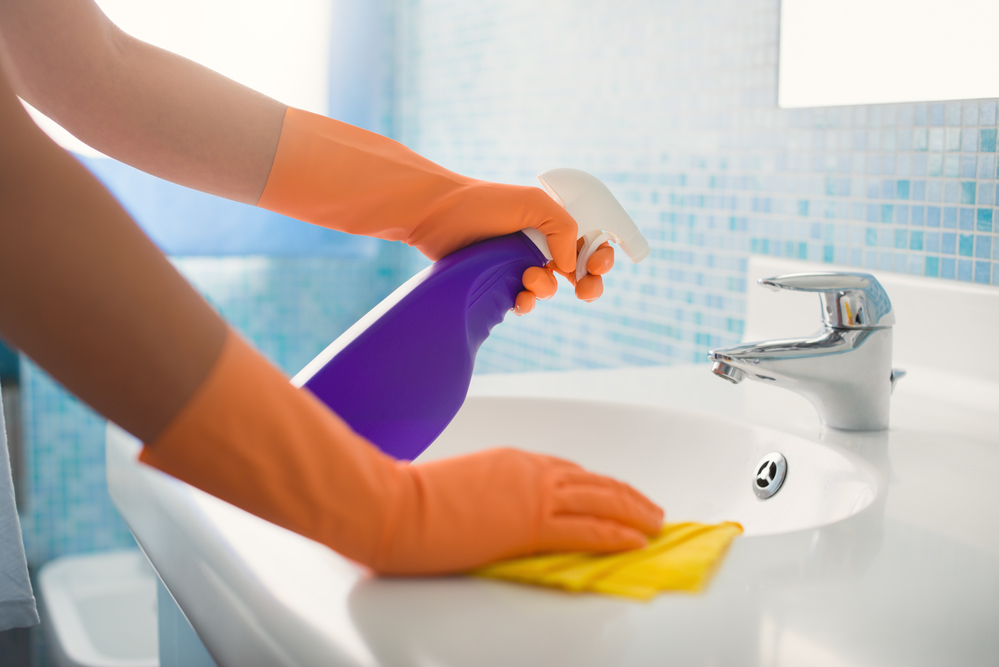 Follow these tips if you want to be able to clean a bathroom like a pro.
Why is it important to clean a bathroom like a pro? Think of it this way: which room in your house has the most germs? That's right—the bathroom. With so many unmentionable activities happening in this busy room each day, you should do everything possible to keep it clean. Even if you don't have much time on your hands, you can follow these tips to keep your bathroom ready for the next visitor.
Let Things Get Steamy in There
Every bathroom cleaner claims to be "tough on dirt" and "bust through grime," but most of them need a little bit of coaxing to get the job done. Before you start scrubbing, try running hot water in your shower, bathtub, and sinks. Let the room get warm and steamy—foggy mirrors and all! Once the bathroom feels like a rainforest, it's time to get to work.
Why does this help? Soap scum and grime don't stick well to wet surfaces. The steam works to loosen the dirt, and the heat makes it easier to wipe away stains. You won't need to use as much elbow grease as you scrub. Even better, you'll probably finish scrubbing in less than half the time it usually takes you.
Give the Cleaners Some Alone Time
While it may tempt you to spray down the counters and immediately begin wiping, this isn't the most time-efficient way to clean. Unless you want to spend more of your valuable time scrubbing hard-to-remove stains, you need to give the cleaners some time to set. After you spray down a specific surface, walk away for a few minutes.
When you return, the chemicals will have begun to work their magic. They will have penetrated the surface, making it easier to rinse away any dirt or stains. More importantly, the germ-fighting properties of the cleaner will have enough time to kill any bacteria or viruses.
No Speck Goes Unseen and Uncleaned
Professional housekeepers don't miss any spots when cleaning your bathroom. They will clean everything—from top to bottom. If you truly want a pristine room, you need to reach every nook and cranny. To do this, you'll need to crawl around the floor on your hands and knees.
Grab a sponge, some surface cleaner, and a pair of gloves. Spray down the baseboards and behind the toilet. Germs love to hide in hidden places. It won't take you long to clean all those hard-to-reach surfaces, and once you finish, you won't have to worry about them for another month.
Save Your Money for Better Things
The cleaning industry is full of overpriced cleaners and products "guaranteed" to make your entire house look spotless. While the majority of these products do work, so do plenty of cheaper alternatives. You don't need the latest and greatest scrubbing spray or glass cleaner to have a sterile bathroom. What you do need are a few key ingredients.
It's possible to make some of the best cleaners out of things you already have at home. White vinegar, for example, works great on glass and tile. If you want something that also kills bacteria, add a few drops of orange oil or lavender to the vinegar. A paste made out of baking soda and water works well on tough grime and soap spots. You can save money and have a meticulously clean bathroom at the same time.
Better Yet—Hire a Pro
Now, if you want your bathroom to look spick and span, you should leave it up to the true professionals. Hiring a local maid company to clean your home from top to bottom every few weeks will ensure you always have a spotless bathroom. It will also save you a lot of time and energy.
The team at Maids of Honor is ready to clean your bathroom. We'll make sure every inch gets the royal treatment. From scrubbing the shower to cleaning the toilet, we do it all! Let us find a cleaning plan that fits your lifestyle and budget. We guarantee you'll love the results. Connect with us online now to hire a skilled maid who knows how to clean a bathroom like a pro.