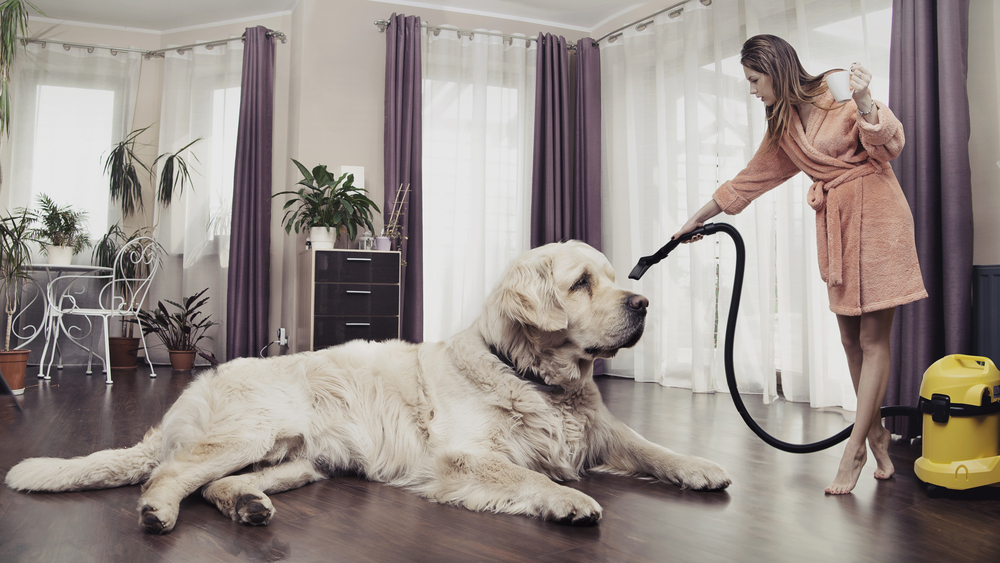 Is it possible to keep your home clean when you have a pet? Learn more about cleaning services that enable you to enjoy life with your dog or cat without sacrificing cleanliness in your home.
As a dog or cat owner, you may discover that keeping your home clean is a challenge—maybe even a struggle. Sometimes it can feel like you spend time cleaning up the messes around the house, only to turn around and find a new mess. It's a never-ending cycle.
Even when you do manage to clean things up, it seems like the house just doesn't feel 100% clean—like that deep-down clean you desire. What's a pet owner to do?
Here are some tips from the pros at Maids of Honor about how to keep your home clean and fresh when you have a pet:
Tip #1: Choose the Right Cleaning Tools and Equipment
Using the right cleaning tools for the task of cleaning up pet hair and messes makes all the difference. There are plenty of vacuum cleaners on the market specifically designed to clean up pet hair and dander. The same is true for spot cleaners and carpet cleaners. If you'd rather not invest in the specialty equipment and tools, you can look for a professional cleaning company that offers services for homes with pets.
Tip #2: Vacuum Often – At Least Weekly
Vacuuming on a regular basis is important when you have a cat or a dog, especially if you have multiples. Their hair and dander accumulate rapidly, and it's more difficult to control the longer you go between vacuuming. For best results, vacuum with a tool designed for pet hair at least weekly, more often if you have a pet who sheds a lot.
Tip #3: Choose Furniture Fabrics Wisely
One tip to reduce pet mess issues is to choose furniture for your home you can easily wipe down and clean. The best fabrics include leather and microfiber. Obviously, you'll want to avoid that white velvet couch!
Tip #4: Wash the Pet's Bedding on a Regular Basis
A big source of dirt and smell in your home could originate with your pet's bedding. Wash the bedding, including blankets, pads, and any plush toys, weekly to help eliminate odors and keep a comfortable, clean space for your pet to sleep.
Tip #5: Minimize Pet Clutter
Does your cat or dog have a lot of toys? While it's fun to keep them entertained, it's not fun to see the clutter throughout your home. Place attractive baskets throughout your living areas to minimize the appearance of pet clutter. That way, you can simply throw toys in a basket quickly to clear the space. It's also a good idea to weed out any toys that no longer interest your pet to keep clutter at bay.
Tip #6: Control the Pet Odors
You may find you can sweep up messes and keep your furniture hair-free, but you can't seem to rid your home of unpleasant pet odors. Rather than trying to mask the stink with candles and air freshener sprays that don't last long and can potentially contaminate your air quality, look for more natural solutions. Some effective pet odor-control options include:
Essential oils: Diffuse oils with a diffuser or place drops of oil into a spray bottle with water to spray throughout your home. Take caution when using oils because certain oils can be toxic to pets.
Charcoal: You can purchase charcoal to place around your home to absorb odor in the air. It's non-toxic and safe for pets and humans alike.
Schedule a Deep Cleaning: Lingering pet odors may be a result of not getting your home as clean as it needs to be. By scheduling a professional deep cleaning, you can freshen your home and eliminate pet odors.
Whether you need help with weekly cleaning or would like to schedule deep cleaning services, you can count on our team of experts at Maids of Honor. We understand the unique cleaning needs of homes with pets and have a checklist in place to ensure your home smells fresh and looks clean. Connect with us online now to schedule cleaning services for your home.