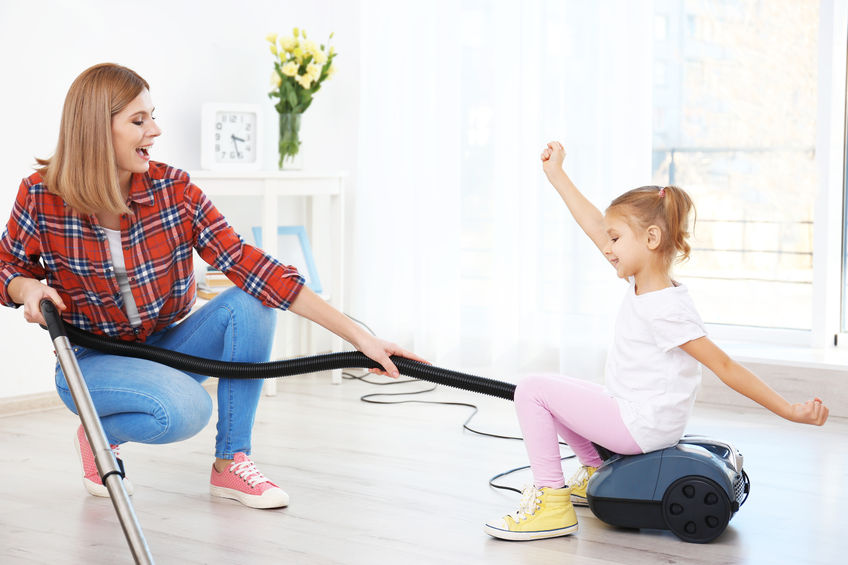 Ring! We've all had that phone call! Your friends or relatives call and tell you that they'll be at your door in under an hour. You're not ready to entertain guests. The house looks like a tornado went through it! School is out and the kids are home. You need a game plan quickly! 
We've put together a quick 30 MINUTE SPEED CLEAN ROUTINE so your home can be prepared for visitors in just 30 minutes.

10 Minutes: Declutter and Tidy Up
First, open your windows and let the fresh air in and take a deep breath. Go to the main rooms you plan to use and concentrate on tossing any visible trash. Don't worry about the bedrooms areas where your guests aren't likely to stray. Shut the door to any room you just won't be able to get to. When the garbage is gone, take a tote or basket and pick up any miscellaneous items that don't belong in the rooms.
You can stash this basket in a storage closet until your guests leave and you have time to properly put it away. Fold any blankets, straighten out any pillows, and stack papers, books, and magazines. Finally, empty any small garbage cans.
10 Minutes: Dust and Wipe Down the Larger Surfaces
Grab your glass cleaner and furniture polish for the second 10 minutes. Start by wiping down the larger surfaces in your rooms like coffee tables, end tables, or stands. You can leave the smaller shelves for now. Baby wipes make an excellent cleaning agent because they grab dust and debris. They also leave a slight shine on your surfaces.

A SHINY MIRROR INSTANTLY MAKES A ROOM LOOK CLEANER!
Use glass cleaner and give any mirrors or reflective surfaces a spray and a quick wipe down. Take your baby wipe, cleaning cloth, or lint roller and run it over the furniture and pillows quickly. Finally, close the windows and light a few scented candles.

10 Minutes:

 

Sweep and Vacuum
The final 10 minutes should be spent vacuuming or sweeping your priority rooms. Concentrate on the entrance because a clean entry will give your guests the impression that the entire house is spotless. 
CONCENTRATE ON THE ENTRY
Take a mop or a baby wipe and remove any visible stains from the floor tiles or laminate flooring. You'll get a bright shine, and your guests will get the impression that you've just mopped the floor. You're now ready for your guests!
When your guests leave, and you want to do a deep clean, give AZ Maids of Honor a call. Our friendly and professional staff are ready and willing to give you a sparkling clean home so you can relax and unwind.
Better yet! Get an estimate today for monthly services.