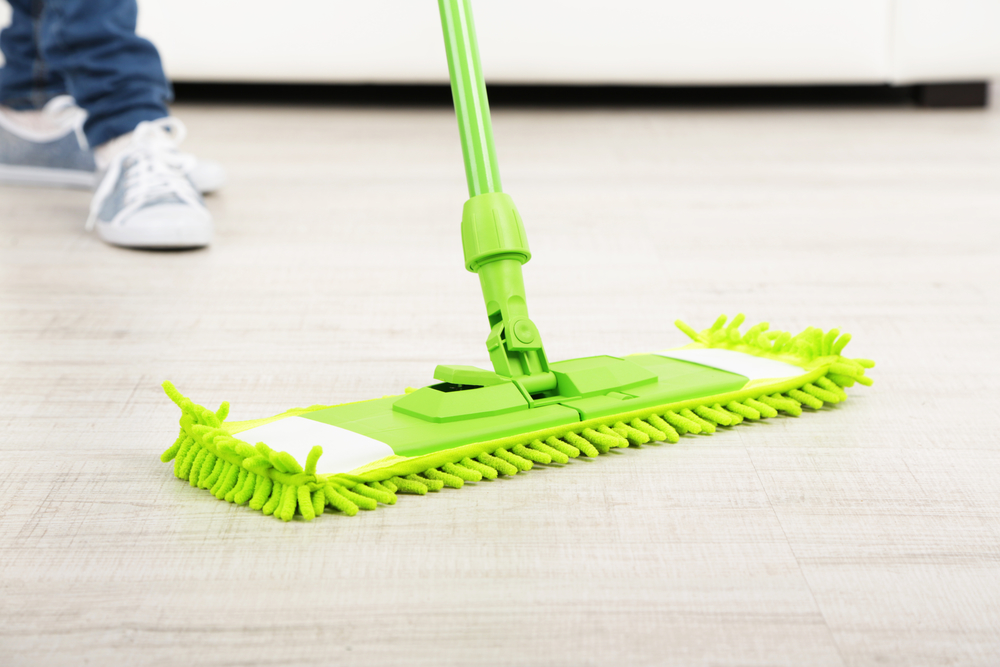 It doesn't take a lot of effort to keep your home clean in between maid visits.
Even if you dread doing chores, you'll be happy to learn it's quite easy to keep your home clean in between maid visits. Unless you're a movie star, you probably don't enjoy the luxury of daily janitorial services. Like the majority of people, you must wait a week or two before your next scheduled cleaning. Here's what you can do to keep your home looking its best until then:
Pick Up Clutter Each Day
It's surprising to see how quickly a clean house can become overrun by clutter. New items continuously make their way through your front door—from junk mail to groceries. It a no-brainer that picking up this clutter will keep your home looking its best, but it's not always easy to motivate yourself and others to clean.
Consider investing in some storage bins or cabinets. For example, you can put a shoe bin in the front closet to keep stray shoes out of the hallway. Add a mail organizer to the entryway to reduce how long it takes you to sort the mail.
Before you go to bed each night, take a final lap around your home. Grab anything that seems out of place, and make sure you return it to its designated spot. If you find any trash, quickly toss it in the garbage can or recycle bin. Make it a goal to remove at least ten unwanted items each day. This simple activity will keep your home company-ready.
Pay Attention to the Floors
The floors in your house deal with the most use and abuse each day, especially in high-traffic rooms. While you can't mop the tile or scrub the baseboards every day, you can make an effort to sweep. It should only take you a few minutes to sweep around your kitchen and bathroom. You don't even need to do a great job—even a haphazard job will suffice until the maid returns.
If you have carpet, remember to vacuum at least once each week. You should aim for twice a week or more if you own pets. Don't worry about keeping straight vacuum lines. Even if you miss a few spots, your carpet will look a lot better than if you didn't attempt to clean at all.
If you don't have time to sweep or vacuum, you can still keep your floors looking clean. Ask every guest to remove their shoes at the front door. This simple request will help keep muddy footprints off your floors. If you have a dog that goes outdoors, be sure to wipe down his paws before you let him run back inside.
Don't Leave Dishes in the Kitchen Sink
A tidy kitchen will make your entire home seem cleaner. Never go to bed without doing the dishes. Dirty plates and silverware will quickly multiply if you leave them until the next day. Instead, make it a goal to run the dishwasher each evening and empty it in the morning.
After you cook, take a few minutes to wipe down the counters and mop up any spills. If you purchased groceries, be sure to put them away in the pantry. Doing a little bit each day will help prevent a giant mess, and you won't feel overwhelmed as you clean. Kids are great helpers too, so don't hesitate to put them to work!
Hire a Thorough Housekeeping Company
Of course, if you hire the best housekeeping company, your home will be spotless every time they leave. You won't have to try as hard to keep it looking pristine. With very minimal effort, you'll have a picture-perfect home that is the envy of your friends.
Here at Maids of Honor, you can trust us to send out the best cleaning team in the industry. Our full-time employees undergo thorough training and a full background check before going to work. You can trust your home is in good hands with us. Schedule service online now with our team at Maids of Honor if you don't have time to keep your home clean in between maid visits.